Sustainable Natural Resource Management for Adequate and Safe Food Provision (SURE+)
Governing natural resources for future food provision in an environmentally sound manner is an urgent challenge for China and for the world as a whole. The availability and quality of natural resources essential for food production, such as land and water, are under threat in many respects. Their sustainable management requires an integrated 'water, land and food nexus' approach that takes potential synergies and trade-offs into account. State-of-the-art knowledge about the institutions, policies, and markets governing environmental pollution, natural resource use, and food supply chains, as well as the underlying processes contributing to changing land, water, and food availability and quality, is needed for the successful adoption of a water, land and food nexus approach.
The SURE+ project carries out interdisciplinary research on the land, water, and food nexus in China, with the aim to obtain insights to formulate coherent recommendations for adequate and safe food provision based on sustainable resource management, and to develop innovative methodologies that can be applied for examining similar problems in the rest of the world. To realize its aims, the following six coherent sub-projects are carried out by interdisciplinary teams of Chinese and Dutch researchers: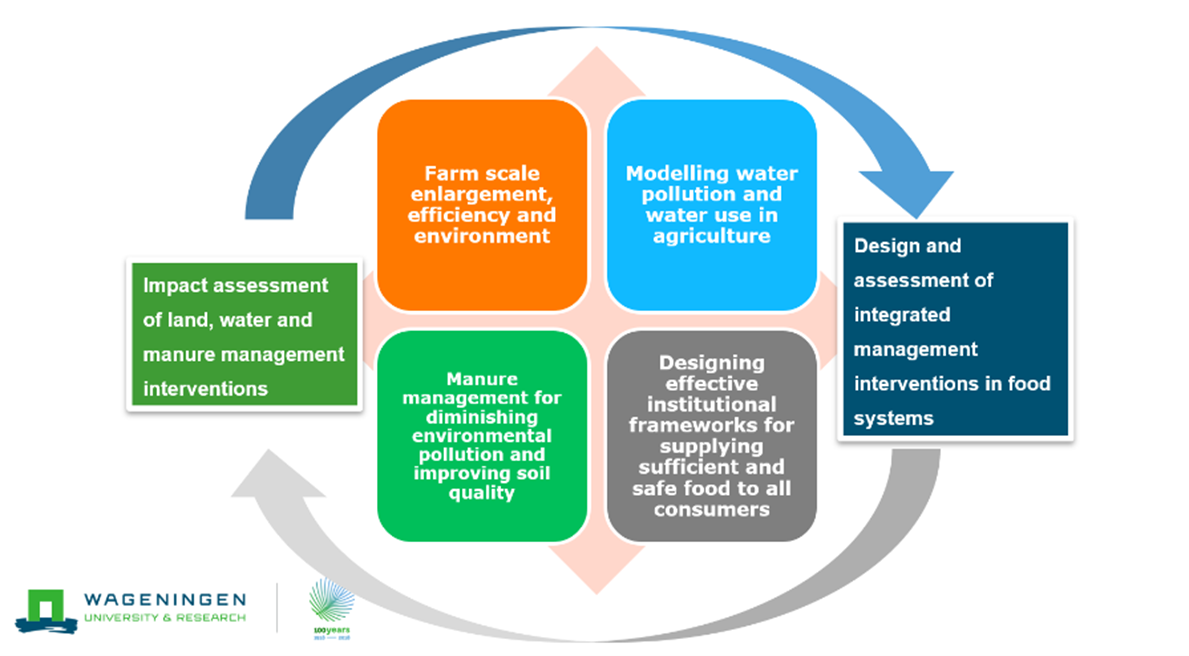 1. Farm scale enlargement, efficiency gains and environmental spill-overs: To identify factors affecting consolidation of small and fragmented family farms, and assess the efficiency of family farms in producing food and the environmental spill-over effects from agro-chemical use.
2. Modelling water pollution and water use in agriculture: To better understand the interactions between water pollution and water use as a resource for agriculture.
3. Manure management for diminishing environmental pollution and improving soil quality: To determine the bottlenecks and possible options for improved manure management.
4. Designing effective institutional frameworks for supplying sufficient and safe food to all consumers: To determine which institutional framework contributes effectively to securing access to safe and sustainable food supply.
A. Impact assessment of land, water and manure management interventions: To evaluate the effectiveness of proposed interventions through randomized controlled trials.
B. Design and assessment of integrated management interventions in food systems: To develop scenarios for integrated management of natural resources for adequate and safe food supply by combining models and data from existing sources and from sub-projects 1 – 4.